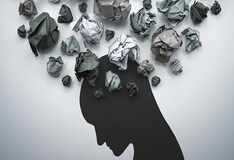 NICE, France — Depression is the strongest long-term predictor of health-related quality of life (HR-QoL), followed by generalized anxiety disorder (GAD), for patients with isolated dystonia, a new study shows.
Dystonia motor severity only predicted social functioning, researchers found. Isolated dystonia is dystonia with or without tremor but without other neurologic findings.
"With the path model, we saw that really depressed symptoms predicted quality of life on any of the domains, so, more depression, the lower quality of life is," senior author Norbert Brüggemann, MD, from the University of Luebeck, Germany, reported here on a poster tour session at the International Congress of Parkinson's Disease and Movement Disorders (MDS) 2019.
In the eight-lagged path models, several variables were compared at different time points to assess for associations with HR-QoL, using the RAND 36-Item Short Form Health Survey involving eight different domains.
Longitudinal assessments of 155 patients (of a total of 603 enrolled) were performed at baseline and at 1 and 2 years' follow-up. At least 2 months elapsed between botulinum injections and the assessments.
Depression and anxiety were rated using the Hamilton Anxiety Depression Scale. The Liebowitz Social Anxiety Scale was used to rate social anxiety. Correlations were made with regard to patients' sex and age but not the type of dystonia, because of lack of power of the study.
Higher baseline depression scores predicted lower HR-QoL on all eight domains measured (P < .001). For generalized anxiety, as assessed by the Hamilton score, "we found out that there is also an effect on quality of life, but only in three different categories with regard to general health, pain, and emotional well-being," Brüggemann said.
There was also an association with social anxiety, he said, "but interestingly enough, higher anxiety scores were correlated to a better quality of life in terms of pain-related dystonia" after 2 years (all P < .006).
The motor component of dystonia, as rated by the Burke-Fahn-Marsden Dystonia Rating Scale (BFMDRS), predicted HR-QoL only in the context of social functioning (P = .002). Neither dystonic tremor, age, nor sex correlated with HR-QoL.
In summary, he said that HR-QoL "was really dominated by depression."
With regard to two classes of patients, those with higher QoL and those with lower QoL over time, the investigators found that the patients with the higher QoL were more susceptible to depression and social anxiety disorder and that the patients with lower QoL were more susceptible to GAD.
"So our conclusion from this is really that depression has a very severe impact on QoL, not only cross-sectionally but also for the long run, and has to be treated specifically," Brüggemann said.
Stanley Fahn, MD, Columbia University, New York City, who was a guide for the poster tour, commented that he feels that "having a lot of depression and anxiety ruins everybody's quality of life. You don't have to have dystonia. So I think these are epiphenomena to the dystonia."
He described a patient he had seen who had severe Parkinson disease but had very good quality of life because "she learned to live with it and had an assistant." He said that in his estimation, with regard to quality of life, much "has to do with the psyche, what you think your quality of life is…rather than the motor scales." Fahn is a co-developer of the BFMDRS.
["source=medscape"]